Bespoke Engagement Rings
Custom Unique Engagement Rings
What's the process to make Bespoke Engagement rings?
Creating bespoke engagement rings with clients is what compels our creativity. Our process is what sets us apart so we will work together to share ideas, draw inspiration from your experiences and our customer discovery process. This is unique to each person so don't be worried if you're unsure or know where to start. Our approach is un rushed and exploratory, so first thing is to get to know each other, talk about your partner, the things you both like, look at some other unique engagement rings we've made before and take it from there.
Timescale 
There are no timescales or limitations in our consultations. Doing this ensures that the ring we make for you is personal because it comes from something that has meaning to you and your partner.
Choice 
We will discuss the gemstone of choice, whether it's a diamond, sapphire, emerald or another suitable stone and then the material used to make bespoke engagement rings. This could perhaps be platinum, 18k yellow gold, rose gold, Or a combination of two metals.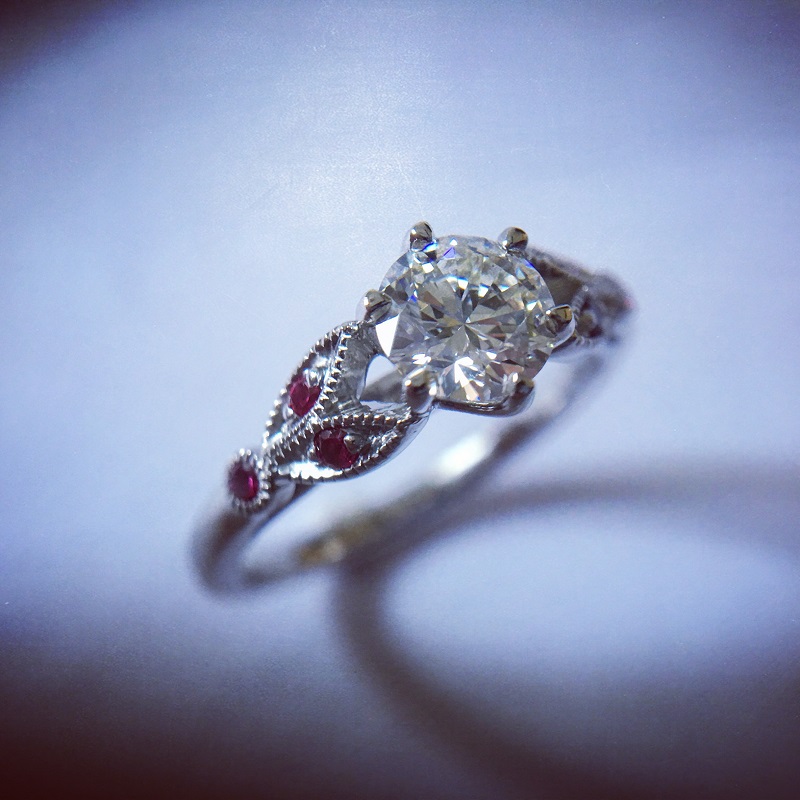 Designing Custom Unique Engagement Rings
Designing custom unique engagement rings is  a special and personal process that reflects the personality and style were trying to understand for your partner. Here are some of our steps.
We start to gather inspiration from various sources, such as Pinterest boards, Instagram pages and other social media pages your partner has expressed interest in. Lets also look any other type of jewellery they wear and perhaps the clothes they like.  Doing this and trying to be discrete is important so you don't blow your cover.
We might then start to discuss other areas such as family, hobbies and other facts unique to your partner.  We can use these to make suggestions look at past work and come up with some ideas to have a brainstorm with.
After that's done we can look at the materials, diamonds, gemstones and metal to use for that one of a kind ring. It could be engagement rings inspired by nature  or a family heirloom or something that reminds them of a loved one.  This can all be covered in the sessions.
Cost
After deciding what material will be used to create your bespoke engagement rings, a rate can be agreed but when we have a concept and we're happy, a truly special bespoke engagement ring will be produced at exceptional value but without compromising on quality. We will always work within your means and never cut corners in terms of quality but setting your expectations of what can be achieved within budget.
Proof of Concept
Once a budget is determined from the ideas session we can then turn that idea into a proof of concept for approval. This the design stage and we can fine tweak designs until it's perfect. Normally we need about 2 weeks to turn a design around sometimes more.  Going to production all depends on when were all happy with the final proof.
Production
The next stage is to go to manufacture.
The Chosen metal for the ring is melted and poured into a mold to create the shape of the ring. This process is called casting and we do it using a centrifugal casting machine.  After the ring has been cast, it needs to be inspected to see if its porous or if it can go to the next stage. The rough cast will then be pre polished and prepared for setting . This  involves advanced polishing techniques depending on the type of metal used and ring that's made.
Setting is the final stage where the gemstone or stones are set in a variety of methods and styles either into the shoulders or head of the ring.  Meticulous attention to detail throughout the rings production journey ensures an impeccable cast. We will then work on finishing the ring with master craftsmanship and create the most incredibly unique engagement ring for you so we can both be proud of it.
INSPIRE
Informal discussions, chats and idea sharing about what's right for you. Lets have some fun.
DESIGN
From concept into a design that you can see on paper we'll create a CAD model for you to approve. Then a prototype. Exciting stuff.
CREATE
The finale. After our hard work and technical assessments of the piece with our casting team, diamond mounter and setter we will make an incredible ring for you.
Unique engagement rings are made specifically to the diamond or gemstone we choose together. The process for a Bespoke engagement ring typically takes between 2-3 months and sometimes more depending on the complexity of the design but rest assured our rates are unbeatable. Our service excellence and experience is unrivalled.
Call for an informal chat or to book an appointment at our Didsbury or Manchester city centre Showroom