WEDDING RINGS BY SI VIS AMARI
AN EXTENSIVE RANGE OF PLAIN BANDS, DIAMOND WEDDING RINGS & UNIQUE WEDDING RINGS IN MANCHESTER
Choosing Your Wedding Rings
Choosing wedding rings is very much like choosing your wedding dress or suit and shoes, you have to see them and wear them before deciding if they are right for you. There are so many different profiles, widths, finishes and styles to choose from so feel free to get in touch and have a chat about about what you had in mind and we can guide you through the many different ideas.
The origin of wedding rings can be traced back to ancient civilizations, where they were used as symbols of love, commitment, and the bond between two people. The circular shape of the ring was seen as a representation of eternity, with no beginning or end.
The ancient Egyptians are thought to be the first civilization to use wedding rings, with evidence dating back to around 2800 BC. They used rings made of reeds or papyrus, which were braided into circles and worn on the fourth finger of the left hand, which was believed to be directly connected to the heart. Its really very fascinating.
In ancient Rome, wedding rings were made of iron and later, gold. The tradition of wearing the ring on the fourth finger of the left hand continued, and the finger was known as the "vena amoris" or the "vein of love", as it was believed to lead directly to the heart. It was later discovered that this was not actually true.
In medieval Europe, the use of wedding rings became more widespread, with rings being made of precious metals such as gold and silver. The rings were often engraved with romantic messages or inscriptions, and were worn as symbols of love and fidelity Something that we still do now on the wedding rings we make.
Today, wedding rings continue to be an important symbol of love and commitment, and are a traditional part of most wedding ceremonies around the world.
Unique wedding bands can be a very personal and meaningful decision.
Here are some tips that can help you choose the right wedding ring:
Before you start shopping for wedding rings, it's important to have some kind of budget in mind. This will help you narrow down your options and look at the right sort of ring design.
Your lifestyle and daily activities should be taken into account when choosing a wedding ring. For example, if you have an active lifestyle, like horse riding, going to the gym, gardening etc,  you may want a more durable ring that can withstand some wear and tear.
The wedding rings we make are typically made of 18K yellow gold, rose gold, white gold and platinum. We do offer budget friendly rings using materials such as Titanium and 9ct gold. Each metal has its own unique qualities and characteristics, please contact to discuss your requirements and we can advice accordingly.
Our Wedding rings come in a variety of designs, from simple bands to intricate and complex styles with diamonds or other gemstones. If you book an appointment at one of our showrooms we can show you some unique wedding rings that will complement your engagement ring and other jewellery you wear like watches etc.
Consider a bespoke wedding ring: Si Vis Amari specialise in custom wedding rings, allowing you to create a unique and personalized design. This can be a great option if you have a specific idea in mind or need to fit the band around diamond engagement rings that wont sit with a straight band.
It's important to try on different styles of wedding rings to see how they look and feel on your hand. This can help you narrow down your options and choose a ring that feels comfortable and looks amazing.  Its a good idea to take photos and videos so you can go away have a think and come back for another visit.  You'll be surprised how many people change their ideal ring after having some time to think about the choices.
Your wedding ring is a symbol of your love and commitment, and it's something you'll wear for many years to come. Consider choosing a timeless design that you'll enjoy for your lifetime.
Looking for Plain Wedding Rings in Manchester?
Plain Rings
Our plain rings range is extensive covering all profiles widths and depths. They are simple, classic, and timeless and can be a great choice for those who prefer a minimalist and understated look, or who work with their hands and need a ring that won't get in the way. We Can also engrave rings to with a vintage pattern or custom pattern to give it a unique look.
We can also engrave the ring with a special message or date. Some people prefer a thicker band for a bolder look, while others prefer a thinner band for a more delicate look. There are a few different profiles to consider as well, we have a large selection of plain bands to view with different profiles and widths.
Ring profile refers to the shape of the cross-section of the ring, which can affect its overall appearance and comfort. Here are some common ring profiles:
Flat: A flat profile ring has a flat surface on the outside and a flat surface on the inside, creating a modern and sleek look.
D-shaped: A D-shaped profile ring is flat on the inside but curved on the outside, creating a "D" shape. Its often chosen for its comfortable fit and traditional look.
Court-shaped: A court-shaped profile ring is rounded on the outside and inside, creating a comfortable fit that is often chosen for wedding bands. This style is popular choice for those who want a classic look.
Bevelled: A bevelled profile ring has a flat surface on the outside and angled edges that meet at a point on the inside. This style has a modern, geometric look.
Below is a small selection of our available Wedding Rings in Manchester and Didsbury Showrooms. Our value & quality  promise is that we are unbeatable in the UK for your wedding rings be it plain, diamond set or bespoke.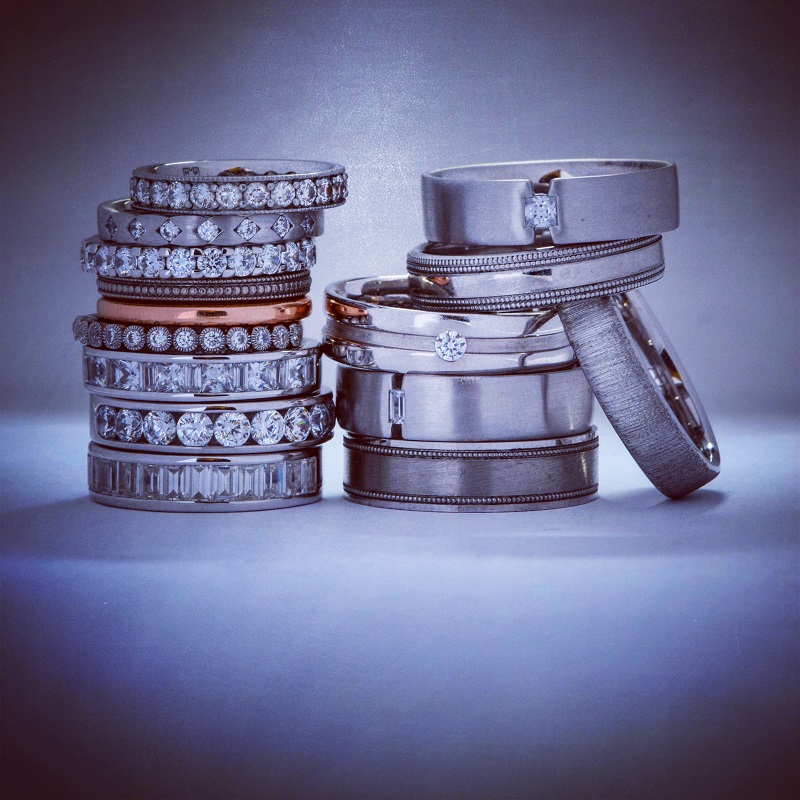 PLAIN WEDDING RINGS
There are a number of profiles, such as court, D shape, flat in different gauges and widths all have a very different look in either platinum, 18 carat yellow, white and rose gold
DIAMOND SET & ETERNITY RINGS
All of our diamond set and eternity rings are set with exceptional quality diamonds and are made with the highest attention to detail and quality.
BESPOKE WEDDING RINGS
From the initial consolation we will enjoy discussing and sharing ideas about your bespoke wedding rings, then from the approval and prototype stage we will turn your ideas into unforgettable rings.
What ever you decide your wedding rings should be, its worth talking to an experienced jeweller who will patiently discuss and advice on all the possible outcomes. During this process you are more than welcome to visit or call as many times as you require before you choose what's right for you
Call for an informal chat or to book an appointment at our Didsbury or Manchester city centre Showroom