MARQUISE CUT DIAMOND ENGAGEMENT RINGS
MARQUISE CUT DIAMONDS
How To Choose The Best Marquise Cut Diamond Engagement Rings
Marquise cut diamonds are a brilliant cut, its a unique looking stone however caution needs to be observed when choosing this stone for your marquise cut diamond engagement rings. This diamond will not have a cut grade on your GIA report so its a great idea see it or an image of the diamond before you buy as it can be the difference between getting a poor stone or a beautiful one.
Marquise Diamond Length to Width Ratio
In our experience there are a number of considerations that you generally don't learn online such as the overall shape of marquise cut diamonds relating to the length to width ration.  Generally were looking at a 2:1 ratio for the ideal shape but there is some flexibility here. You can sometimes be fooled by the length and the width seeming correct and giving you the ideal ratio on paper but the way the stone is cut can be deceiving.
For example you may get a stone that has a length of 10mm and 5mm width giving you that 2:1 ratio but the angle of the curvature from the belly to the tips of the stone may be too sharp or bulge out giving the stone a weird look which is undesirable.
Marquise Stone Bow Tie
Another thing to watch out for and this is sometimes difficult to avoid but still achievable is the bow tie. Other fancy shape diamonds are prone to this phenomenon such as the pear brilliant cut, heart and oval shaped diamond. If the diamond has not been cut to its maximum potential then it can exhibit light leakage at the back of the stone manifesting itself as a black bow tie visible to the naked eye.  Some are worse than others.  We can discuss these at your 1-1 appointment.
Girdle Thickness of Marquise Cut Diamonds
As the marquise stone has two points which are susceptible to damage we ensure that the edge is not extremely thin. The edge of the diamond is called the girdle. If this area is wafer thin then with enough force the point or edge can chip.  Even though diamonds are extremely hard and durable, they're not indestructible.
History of Marquise Cut Diamonds
The Marquise cut diamond is a type of cut that is named after the Marquise of Pompadour, who was a French noblewoman and a mistress of King Louis XV, an interesting bit of history for sure (Giggle). The marquise cut diamond is also sometimes referred to as the "navette" cut, which means "little boat" in French which is where you can see the shape of the stone takes its evolution from.
The marquise diamond is elongated with pointed ends, similar to the shape of an eye or a boat. The diamond has 58 facets, which are arranged in a way that maximizes the diamond's brilliance and fire similar to the round cut, pear cut and oval cut diamonds. The marquise cut is often used for engagement rings and other jewellery, as it has an elegant appearance. The shape is very unique and is very complimentary for people with longer slender fingers.
The shape is very unique and is complimentary for people with longer slender fingers. However, because of its pointed ends, the diamond can be more prone to chipping and may require special care to avoid damage. Its for this reason we observe the girdle thickness and make sure that the pointed ends are not extremely thin.  We also find in our experience that setting the marquise diamond in V tip settings offers a great deal of security and provides longevity for the ring.
The Marquise cut diamond works very well with many styles of engagement rings, from solitaire diamond rings, halo rings, trilogy engagement rings, contemporary rings to vintage inspired engagement rings like this art deco Gatsby diamond engagement ring that we made below.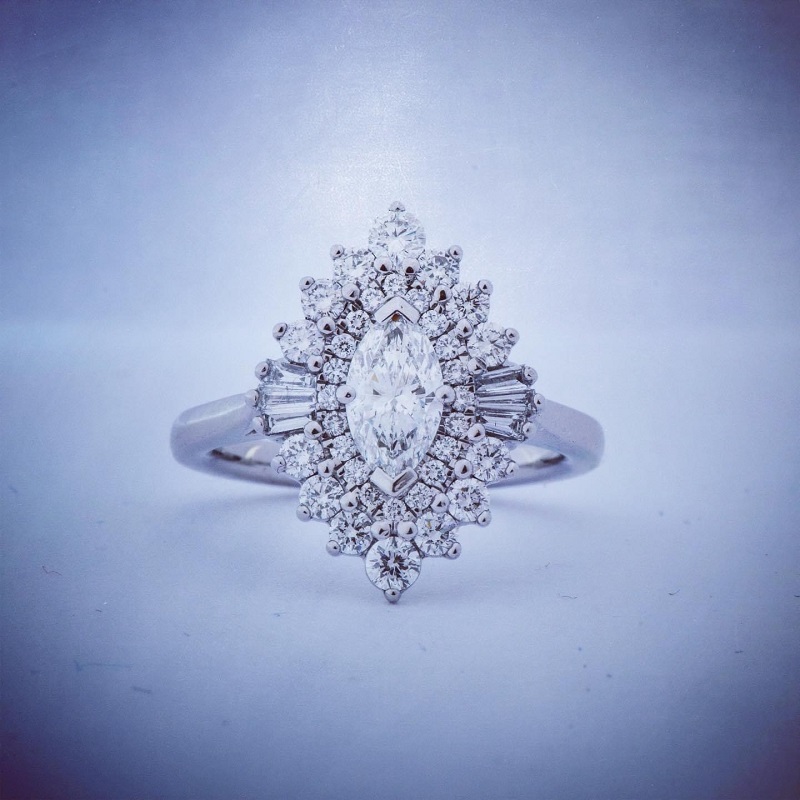 GIRDLE
There are 2 points on this stone, making them susceptible to damage don't pick a stone that has a very thin girdle (edge) or it could chip.
LENGTH TO WIDTH RATIO
The length and width of the stone is the difference between getting a long and thin stone or a shorter and wider stone. There is a desirable range.
BOW TIE
Many marquise cut diamonds have a consistent dark bow tie in the centre. Our aim is to try and find one with a minimal or no bow tie.
There are many factors to consider when choosing an diamond for your marquise cut diamond engagement ring like the thickness of the girdle, length to width ratio, the bow tie and more. Call us for further information and advice about this type of diamond.
Call for an informal chat or to book an appointment at our Didsbury or Manchester city centre Showroom