The Koru Engagement Ring
Organic unique engagement rings inspired by nature
It was April 2018 and Dave Dillon, a passionate photographer, approached us to create a bespoke engagement ring, with a natural, organic feel and somehow introduce Laura, his partner's New Zealand heritage into the ring design as well. After some research, Dave settled on trying to incorporate an element of The Silver Fern, a national symbol of New Zealand. As new leaves of the fern unfurl themselves, they have this spiral shape or loop appearance. Koru is the Maori word for "Loop", and this shape or design element is used a lot in traditional Maori art and symbolism. This Koru detail ultimately became a cornerstone in our design from this moment on.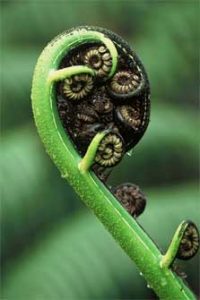 After brainstorming, we felt that by introducing a Koru detail, it would give an elegant but simple design feature that would help enhance the overall flow of the ring, while at the same time, cementing Laura's New Zealand heritage in their future together.

We were able to fine tune Dave's idea and produced some sketches followed by some drawings as a proof of concept for his diamond engagement ring.

We had to work out Laura's finger size and at one point, Dave surreptitiously, "borrowed" a ring that Laura wore on the same finger but on the other hand, so that we could the get as close as possible to her correct ring size.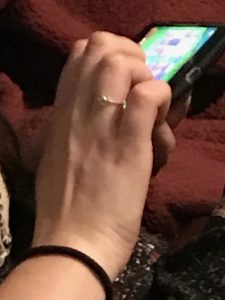 Once we had the finger size we went straight to production and setting the GIA diamond Dave chose for his design. The end result was a stunning, Organic unique engagement ring, that matched the inspiration and brief.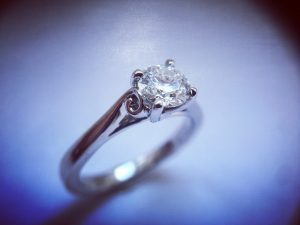 Dave had already decided that when he "popped the question" He wanted it to be memorable, in a stunning  and romantic setting and more than anything, a complete surprise! As they had already booked a 2 week adventure to Iceland, it felt that this would be the perfect opportunity and setting to propose.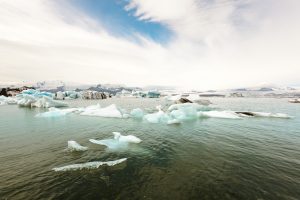 The problem Dave had was that he didn't know when, where or how he was going to propose, and as the days went by, with the ring on his person for almost 24 hours a day, he had struggled to get the feeling that "This was the right place"
.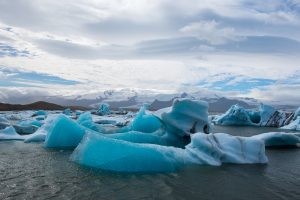 This was until, the 8th July, when they visited a place called Jökulsárlón, a Glacial Lagoon, with still, crystal clear water and hundreds of icebergs floating through the lagoon, towards the sea. These icebergs, which are of varying shape and size, have sheared off part of the Vatnajökull Glacier which is the Largest Glacier in Iceland, and second Largest in Europe.
There is a beach at the end of the lagoon which is littered with stunning, crystal clear, fragments of Icebergs which glisten, shimmer and sparkle like a diamond.  As a result the beach is nicknamed "Diamond Beach" so this seemed like the most fitting place to ask THE question.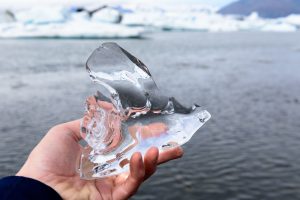 They wandered along the shores of the lagoon, until eventually they were away from the tourists, it was just Dave, Laura, icebergs and a family of ducks.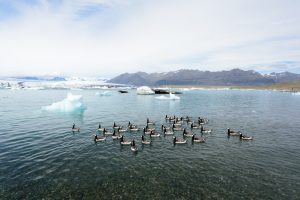 He set his camera up on the tripod and suggested to Laura that they take a few silly pictures of them jumping into the air, with the stunning backdrop.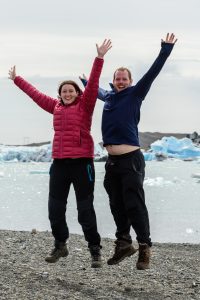 As Laura jumped up into the air, arms and legs stretched as far as she could, trying to make the biggest star shape possible, he got down on one knee, opened the Ring Box (Made by from NZ wood) looked Laura in the eye, and asked her if she would Marry him.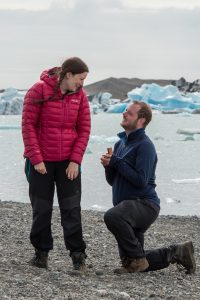 She was completely and utterly bamboozled, Dave could see the cogs turning as she processed what had just happened and what he had just asked. After a few seconds (which felt like minutes to Dave) and a nervous giggle, she said "Yes".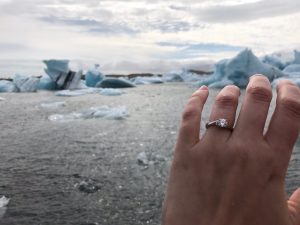 Both Laura and Dave couldn't have been happier with the Koru Engagement Ring.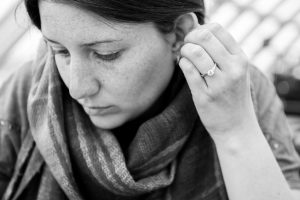 After a while of contemplation and just enjoying the picturesque other-worldy scene in front of them, they continued to explore the lagoon, Diamond Beach and some of the local Glacial spurs.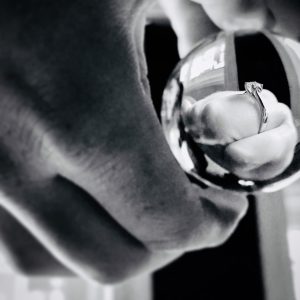 The setting was absolutely magical, and neither of them could have imagined a more perfect location and setting for them to become engaged.
Congratulations Dave & Laura. We love making engagement rings inspired by nature, its something that really gets our creativity flowing taking something beautiful and  natural and incorporating this into a symbol of your love.